Do you love tea?  If so, I have a special treat for you.  Meet Sky-Tea.  If you've not yet discovered the joys of exquisite teas, here is your opportunity!  This is an amazing company, whose charming owner blends a social mission with a passion for fine teas, yielding award winning combinations.   Find out more at the Sky-Tea website.  Here's one of the images from our recent photo shoot, for which I had the pleasure of being both the stylist and the photographer: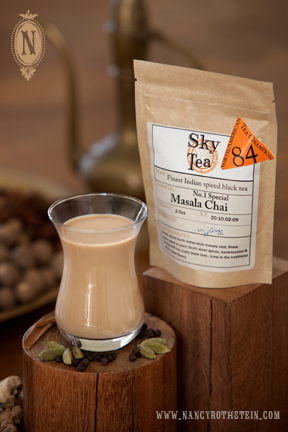 And here's the fabulous Jeni Quigg herself, founder of Sky-Tea, teaching us how to prepare her award winning Masala Chai.

Jeni travels to India herself to source her teas, forming relationships that benefit local villages by providing jobs to women. Here's Jeni on one of her trips, exploring a tea plantation last year, teaching us more about the plants and growing conditions.
Thanks Jeni! Always a pleasure to work with you!