I'm so honored to have the opportunity to photograph powerful, inspiring women who are doing important work in the world! This week I'd like to introduce you to Marianne Cooper, Ph.D.. Marianne was referred to me by Lori Nishiura Mackenzie, Executive Director of the Clayman Institute for Gender Research at Stanford University, who I had the pleasure of working with last year, where Marianne is a sociologist. Marianne is a super busy lady. She was the lead researcher for Facebook COO & Leanin.org Founder Sheryl Sandberg's book Lean In, is an affiliate at The Stanford Center on Poverty and Inequality; and an author of the recently published book Cut Adrift: Families in Insecure Times.  
After starting our photo shoot in the studio, we headed out for a photo adventure and had a lot of fun finding a spot for the location portion of Marianne's professional portrait shoot. We ended up on Grand Avenue in the flourishing Uptown district of Oakland, where Marianne was surrounded by people on the bustling street, some of whom were gathered for one of the last World Cup games. A perfect location to capture her in the field, although in this case the sociologist was probably being observed as much as she was observing! We even enlisted the help of some pedestrians for some of our shots.  I love my studio, but It's always fun to be out on the street for a project.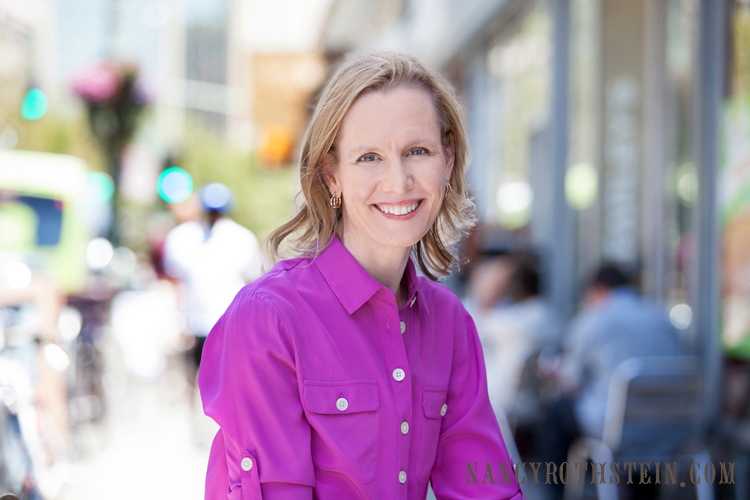 Sheryl Sandberg has already read Marianne's book; here's what she had to say about it: "In this powerful book, Marianne Cooper weaves together carefully researched data about growing economic insecurity and gripping stories of families coping with these trends. Cooper has written an intimate look into what families are up against and the strategies they use to navigate the challenges they face. Cut Adrift provides a compelling examination of the pressing economic issues of our time." 

Maria Shriver also spoke with Marianne about the book. Their interview is featured on NBC News. In it, Marianne explains her inspiration for the work: "What I had seen in reading a lot about growing inequality and growing economic insecurity, was a lot of data and a lot of statistics. All of that is really important to understand how and why inequality is growing, which groups of Americans are more effected than others, and how we're pulling apart. But I felt like the human face on this story was really missing, and somebody needed to go out and actually interview and talk with people, from rich to poor, to really understand what this means in people's everyday lives and how they're coping with such powerful forces."

On September 9th, both Marianne Cooper and Sheryl Sandberg will be the featured speakers at The Commonwealth Club in a talk titled The Anxieties of Modern Families. The event will take place at San Francisco's Castro Theatre. Get your tickets now; this one will definitely sell out!
-Nancy
877-881-7221 | nancyrothstein.com |  nancy@nancyrothstein.com