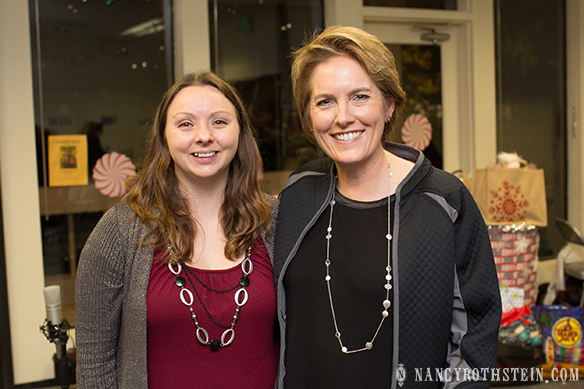 Lorie Curtis, Development Coordinator of Building Futures with Women and Children, along side Merideth Mehlberg, founder of the Holiday Pajama Drive.
---
Three years ago, I was invited to photograph what was to become Merideth Mehlberg's first annual Holiday Pajama Drive. The event serves to benefit the Midway Shelter, supporting women and children at a time of undeniable need through the donation of funds and basic necessities.
I first met Merideth when she came to me for new marketing imagery for her executive coaching and consulting firm based in Alameda. As our kinship grew, Merideth brought me onto her team to provide headshots to her clients. Throughout my time working with her, I have been endlessly impressed by her positivity, motivation, and ever-generous spirit. She is truly an inspiration!
The Holiday Pajama Drive began with a simple idea. With so much focus on receiving during the holiday season, Merideth wanted to give her kids the opportunity to experience the joy of giving. She had a strong memory of her parents helping a family in need when she was young, and she wanted to continue the family tradition of giving back. She soon learned that the sentiment resonated with others in her community and the wheels began to turn.
Rather than simply gifting checks, guests are encouraged to pick a specific family, who remains anonymous, to shop for each holiday season. Beyond building a spirit of generosity, Merideth's event creates a feeling of community — with each family who shopped for a family coming to bring their gifts and enjoy an evening together, all in the spirit of giving.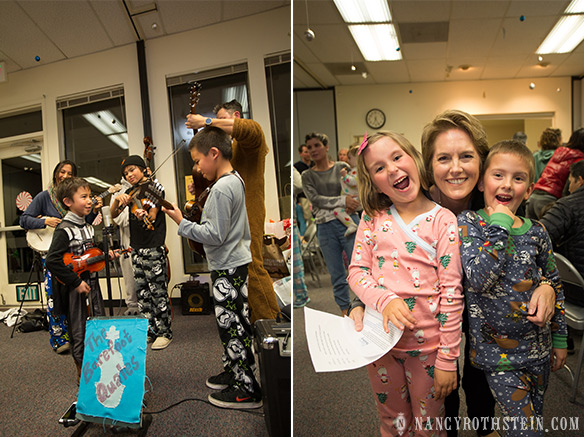 Three years from its start, this year's event raised $1,100 and clothed 115 people, women and their children, across three shelters with fresh new jammies and other comfy clothes. The event featured a delicious spread from Lainie Acacio of Gather & Grub, a performance by the amazingly talented Barefoot Quales family bluegrass band, and a fun Zumba dance session for the kids led by Denise Lum.
This is beautiful event full of kids and parents coming together to care for other kids and mothers in their community. Thank you, Merideth, for continually inspiring us to be our best selves and showing the next generation what it means to be a good neighbor and a good human being!
-Nancy
Merideth Mehlberg is an executive coach based in Alameda. You can find more information on her firm, the Holiday Pajama Drive, and notifications for next year's drive on her website.
Midway Shelter's mission is to advocate for homeless women and their children, assuring their right to live free of domestic violence in a safe and supportive environment. The Network strives to secure adequate funding to keep the Midway Shelter operating 24 hours a day while raising the consciousness of our community. Even though this year's Pajama Drive is over, you can still help!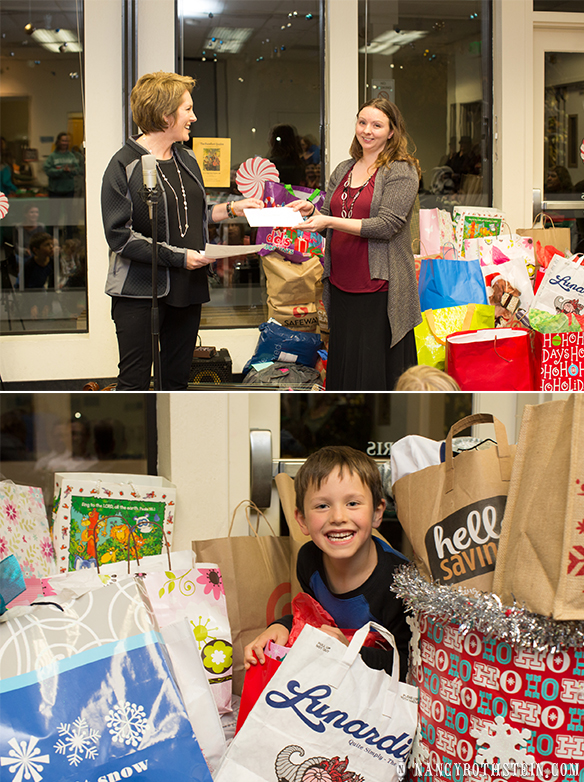 (Top to bottom) Merideth Mehlberg presents a check to Lorie Curtis of Building Futures with Women and Children; proud gift giver poses with this year's presents.
877-881-7221 | nancyrothstein.com |  nancy@nancyrothstein.com